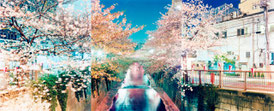 Kunihiko Katsumata 勝又公仁彦
Plura-Monism
3/8 - 4/12/2014
展覧会概要 *English Below
この度、KOKI ARTSは勝又公仁彦「Plura-Monism」展を開催致します。
本展では、未発表作品を含むPanning of DaysとSkylineのシリーズを展示致します。
 
Plura-Monism(プルラモニスム)とは、ドイツの現代音楽の作曲家、シュトックハウゼンの造語で、「単一」のものの内部に「多数」を見いだすことを意味しています。勝又のPanning of Days シリーズは、一見、ある一つの風景のようですが、実際には同一地点から異なる日に撮影が行われ、その後に再構成されたパノラマです。その多くは数年をかけて撮影され、様々な時間帯によって変化してゆく一つの場所を、同時に現出させています。季節や光などによって色合いや雰囲気は全く異なり、私たち鑑賞者は一つの場所での異なる風景を、同時に想像し体験できることでしょう。これまでの展示方法とは異なる新たな試みもなされるなどプレゼンテーションでの複数性も提示される予定です。
 
また、2013年に東京国立近代美術館で開催された『都市の無意識』展での一章を代表したことでも記憶に新しいSkylineシリーズにおきましても、同一地点からの様々な光景を捉えた作品を含め、都市の構造や文化・歴史などによる相違と共通項を同時に提示しています。Panning of DaysとSkylineという、一見静謐な二つのパノラマシリーズに潜む多声のざわめきをお感じ頂けますと幸いです。

KOKI ARTS is proud to host Kunihiko Katsumata's solo exhibition, "Plura-Monism".
This exhibition will showcase works from the "Panning of Days" series and "Skyline" series, including photographs that were never exhibited before.
"Plura-Monism", a coined term by German composer Stockhausen, means the state of discovering "plurality" in something that is "mono" or unique. Katsumata's "Panning of Days" series at first glance appears to be pictures of single landscapes, but they are in fact a series of combined photographs shot from the same spot at different occasions. Many of these were shot over several years, and each print concurrently shows different shots of the same landscape taken at different times of the day, demonstrating how the same landscape changes throughout time. As the colors and atmosphere of the landscape change completely depending on the season and the amount of light, the viewer is able to experience and imagine simultaneously the different landscapes a single place can have. In this exhibition, there will also be a new approach in the display of Katsumata's works, thus indicating a plurality in the method of presentation as well.
The "Skyline" series, which had recently been a part of the "Unconsciousness of the City" exhibition at The National Museum of Modern Art, Tokyo in 2013, also simultaneously indicates the structural, cultural, and historical differences/similarities a city has, as it includes pictures that capture different scenes from the same location. Katsumata
 wishes the viewer to sense the polyphonic commotion lurking in the two seemingly tranquil panoramic series, "Panning of Days" and "Skyline".