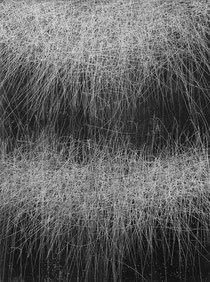 Mario Trejo マリオ・トレーホ
ETERNITY 永遠
3/1-3/30/2013
展覧会概要 *English Below
この度KOKI ARTSでは、マリオ・トレーホのアジア初個展、「ETERNITY」(永遠)を開催致します。
San Francisco Art Instituteにて2008年に修士号取得後、マリオ・トレーホはアメリカの様々な都市(サンフランシスコ、シカゴ、ニューヨークなど)で作品発表を続けてきています。トレーホ氏の作品は、素早く描かれた無数の「印」の蓄積によって構成されています。出来上がったイメージは、視覚的な魅力があり、時間・空間・数のコンセプトを表現し、そして小宇宙を象徴しているかのようです。これまで、彼の作品は東京において2つのグループ展で紹介されています:KOKI ARTS(2012)、Satoshi Koyama Gallery(2013)。
「ETERNITY」では、2010-2013年に制作された白黒の作品を中心に展示致します。
本展覧会をご高覧くださいますよう、あわせて是非貴誌・貴社にてご紹介下さいますよう何卒宜しくお願い申し上げます。
作家プロフィール
2008年 MFA, San Francisco Art Institute
2005年 BFA, School of the Art Institute of Chicago
主な展覧会 Selected Exhibitions
2013 「ETERNITY」KOKI ARTS、東京
2013 「Projected Edifices」Bruno David Gallery、セントルイス
2013 「Winter Group Show Part II」Satoshi Koyama Gallery、東京
2012 「Unexpected Protocol」Maus Contemporary、バーミングハム
2012 「Mario Trejo: Cathartic Fury / Sarah Krepp: Walking Drawings」Roy Boyd Gallery、シカゴ
2012 「Line and Plane」McKenzie Fine Art、ニューヨーク
2012 「Catharsism」Herringer Kiss Gallery、カルガリー(カナダ)
2012 「emptiness」 KOKI ARTS、東京
2012 「Focus Four」Illinois State Museum Lockport Gallery、ロックポート(イリノイ州)
2012 「I Defy You」Elmhurst Art Museum、エルムハースト(イリノイ州)
2012 「Mystics: A Blessed Rage for Order」BRIC Arts、ニューヨーク
2011 「Centered」Bruno David Gallery、セントルイス
2011 「Focus 4」Illinois State Museum Chicago Gallery、シカゴ
2011 「Is that (a) Painting?」raumZWEI Gallery、バーミングハム
2010 「New Works」Metropolitan Gallery、セントルイス
2010 「Firat Erdim: Sculpture and Drawings / Mario Trejo: New Work」Roy Boyd Gallery、シカゴ
2010 「Gallery Group Exhibition」Roy Boyd Gallery、シカゴ
2010 「In Space of Color」Chesterfield Arts、セントルイス
2009 「Museum of Pocket Art Retrospective」The Lab、サンフランシスコ
2009 「New American Paintings No. 83」juried by Lynne Warren, curator of the Museum of Contemporary Art
2009 「Flat Files」Contemporary Art Museum St. Louis、セントルイス
2009 「Catharsis」Bruno David Gallery、セントルイス
2008 「Cream - from the top」Arts Benicia、ベニシア(カリフォルニア州)
2008 「Lucky Number Seven」SITE Santa Fe Seventh International Biennial、SITE Santa Fe、サンタフェ
2008 「Vernissage」Fort Mason Center、サンフランシスコ
2008 「Ways and Means」W.A.M. Gallery、サンフランシスコ
2008 「Shelters II」Luggage Store Annex、サンフランシスコ
2008 「Shelters I」Luggage Store Annex、サンフランシスコ
2007 「Entropic Wisdom」Diego Rivera Gallery、サンフランシスコ
2007 「Evolution The Exhibition」Swell Gallery、サンフランシスコ
2007 「One Million」Diego Rivera Gallery、サンフランシスコ
KOKI ARTS is excited to host Mario Trejo's first solo exhibition in Asia, "ETERNITY". 
After completing his MFA program at San Francisco Art Institute in 2008, Trejo has experienced early success as he has exhibited in several cities across the US, including San Francisco, Chicago, and New York. Trejo's art consists of mystical compositions created through the accumulation of quickly drawn hundreds of thousands of "marks". The painstaking results are visually stunning, and the images created investigate the concepts of time, space, number, and even seem to symbolize small universes. His works were previously shown at 2 group shows in Tokyo, KOKI ARTS (2012), and Satoshi Koyama Gallery (2013).  
"ETERNITY" will showcase Trejo's smaller works from his wide variety of series created during 2010-2013, focusing on his black and white pieces.